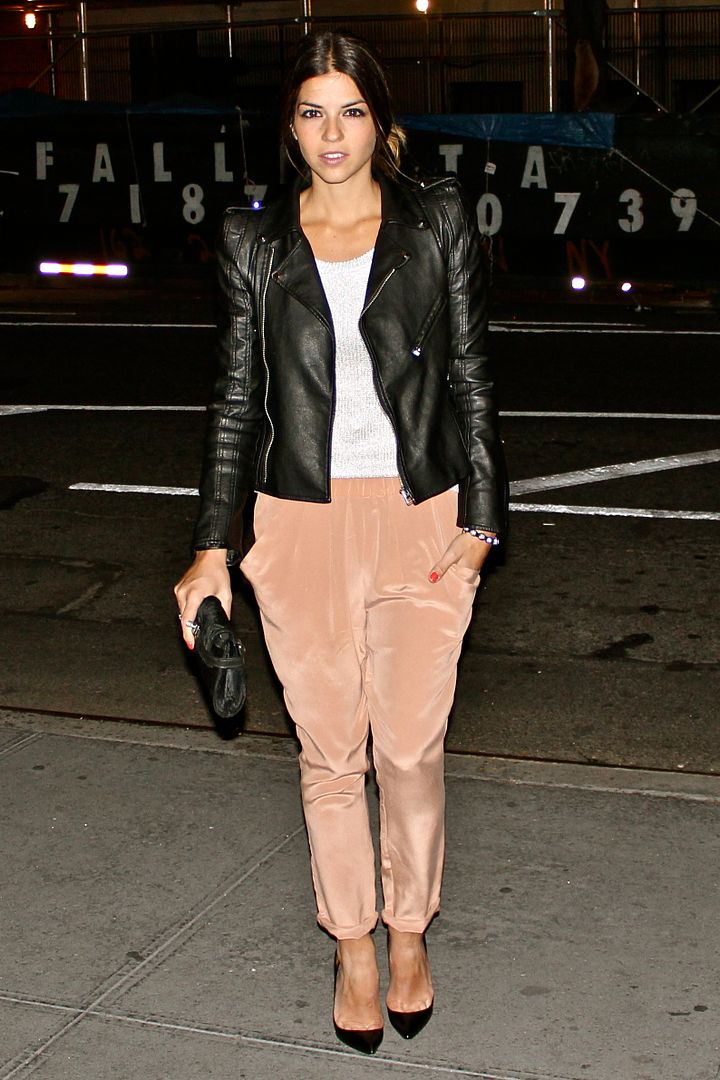 Pantalones/Pants: Atelier Concept (SS 12)
Chaqueta/Jacket: Queens Wardrobe
Jersey/Sweater: Queens Wardrobe (SS 12)
Zapatos/Shoes: Christian Louboutin
Bolso/Bag: Urbaks(SS 12)
Pulseras/Bracelets:Shamballa Love
Anillo/Ring:Lovelix
Love this pants! Baggys gives always a super chic touch to you outfits, and if they´re soft peach silk made even more! Combined with silver is a perfect partner to going out for dinner. Elegant and charming. The breaking point is the rock accesories such us the perfect leather jacket, jewlery and the stiletto Loubs. The jacket and sweater shoulders give a extra volume at the top that make up the pants style.
The pants are from Atelier concept, the boutique I told you few posts before and one of my new favourites shops in Madrid. I have lots of looks in mind with them! With a white blouse and a blazer, lace tank, silk top…you will see more soon!
I wore this look to have dinner at «Locanda Verde» an aweseome italian restaurant in Manhattan that owns to Robert de Niro. To start, I have a granadine and peach cocktail 😉
THOUSANDS OF KISSES!
¡Me encantan estos pantalones! Los baggy siempre dan un toque súper chic a cualquier look, y si son en seda color melocotón muy suave ¡aún más! Combinado con plata es la pareja perfecta para ir de cena. Elegante y con encanto. El punto rompedor lo dan los accesorios rock como la perfecto de cuero, la bisutería y los stiletto de Louboutin (que no, ¡NO son cómodos! Pero como dice mi madre, para presumir hay que sufrir…jajajaj) Las hombreras muy marcadas de la chaqueta y el jersey dan un volumen extra en la parte de arriba que compensa la forma del pantalón.
Los pantalones son de Atelier Concept, la boutique de la que os hablé hace algunos post, y que se ha convertido en una de mis tiendas de referencia en Madrid. Son increíbles y con una caída y tacto insuperables. ¡Ya he pensado un montón de looks con ellos! Con una blusa blanca y americana, un top lencero, una casaca de seda a juego en plan pijamero…¡los veréis pronto por aquí!
Llevé este look para ir a cenar a «locanda Verde» un restaurante italiano muy chulo en Manhattan que pertenece a Robert de Niro. Y, como no, para empezar /allí se toman de aperitivo) un cocktail de granadina y melocotón 😉
¡MIL BESOS!
You might also like