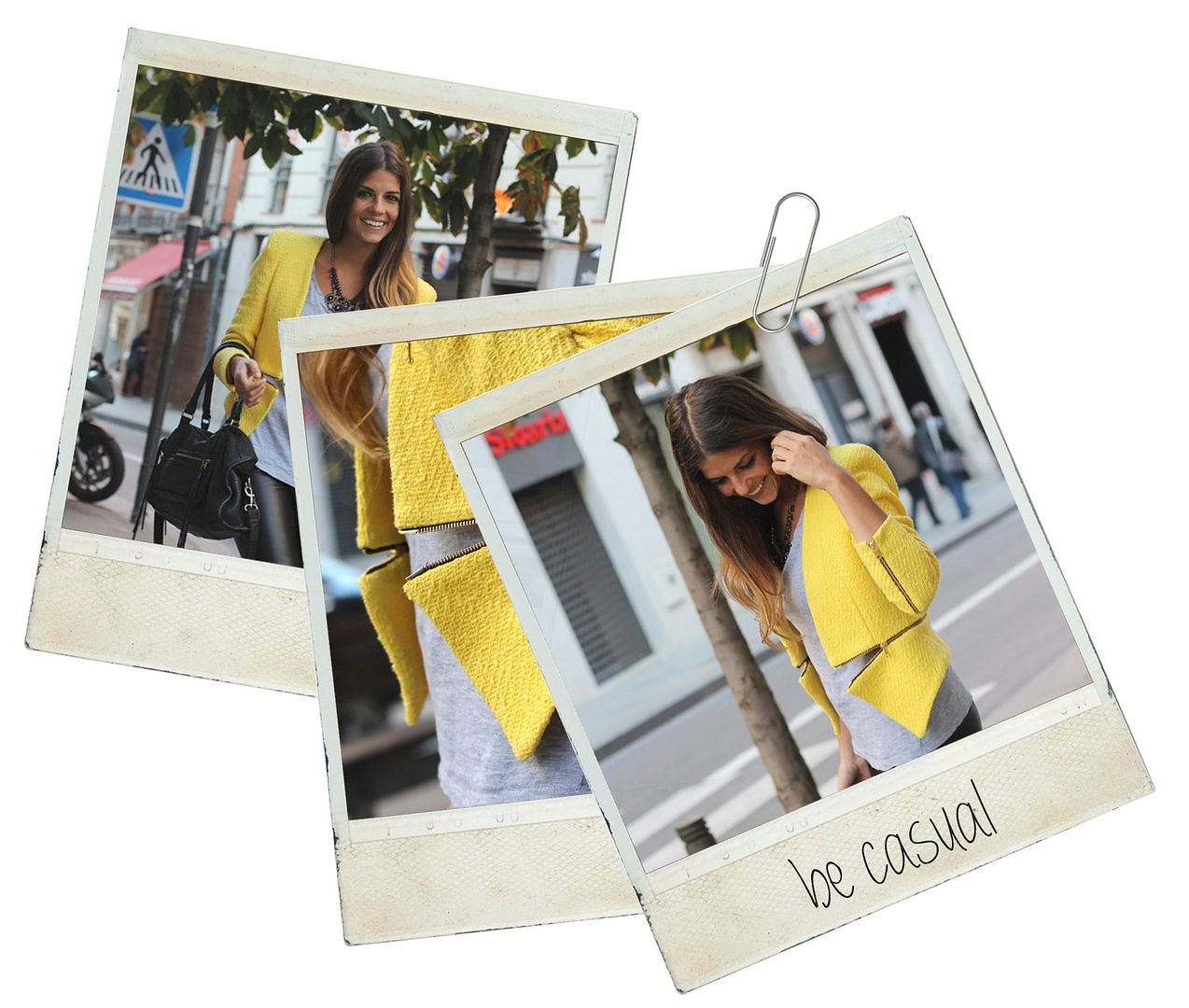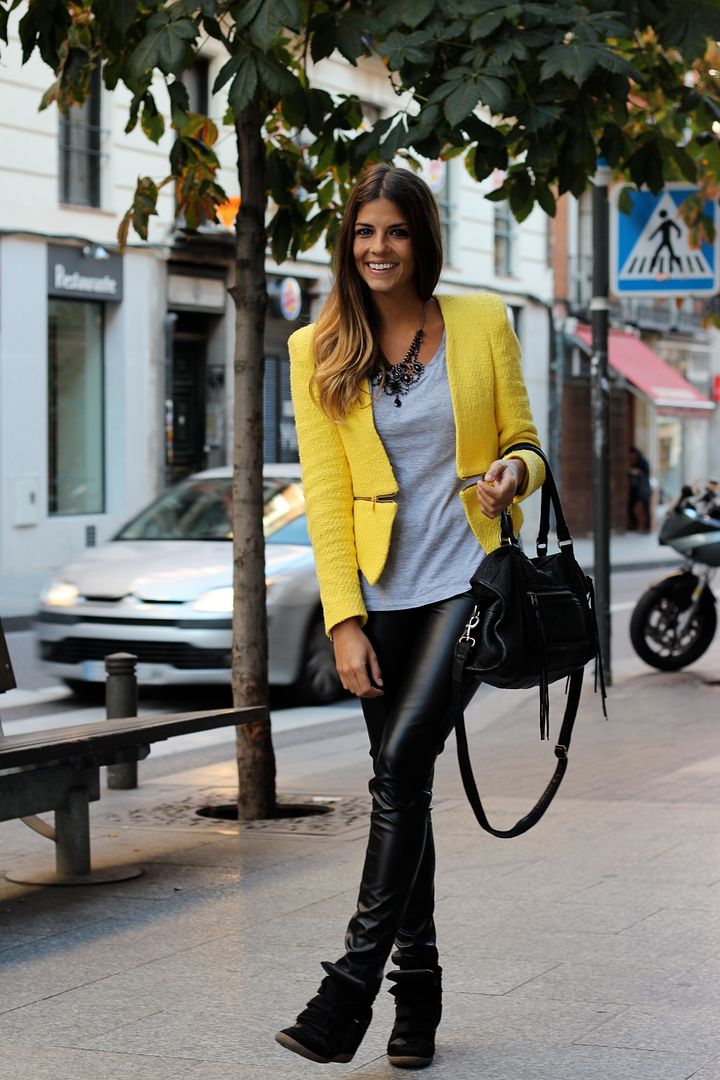 I was wondering to show you this look beacause the pic wearing it hit at Instagram and Twitter. It is not a complicated look, you know I love casual looks with basic items. The key is mixing styles, colors and textures. The black and grey look is rocked by the yellow jacket. But I think the best of the outfit is the combination of leather (sinthetic), cotton and tweed with some details as the necklace and the zippers. If you switch the sneakers for high heels booties the look instantly gets a glam style for other ocassions.
THOUSANDS OF KISSES!
Estaba deseando enseñaos este look porque la foto llevándolo triunfó en Instagram y Twitter. No es un look complicado, sabéis cuanto me gusta el estilo casual a base de prendas básicas. La clave: el mix de estilos, colores y texturas. El outfit en gris y negro  rompe con la chaqueta amarilla. Pero lo mejor de todo es la combinación de cuero (sintético, o vinilo más bien), algodón y tweed con algunos detalles como el maxi collar y las cremalleras de la chaqueta. Si cambias las zapatillas por unos botines de taconazo el look se vuelve al instante arreglado para una ocasión más especial.
Muchas ya me habéis comentado por redes sociales que lo visteis; la semana pasada en el programa Glamour TV que se emite en Nova (también podéis verlo en la web de la revista Glamour), hicieron un reportaje en la fiesta de Anna dello Russo para H&M. Aparezco junto a grandes como Carmen Lomana, Berta Collado o Bibi Fernández (¡ella es mi preferida! Me parto con su entrevista no os la perdáis ;)) Pero además me dieron el Glammy de esa semana al final del programa. Es el premio que otorgan a la más estilosa. Aparte de las que ya os he nombrado, competía por el Glammy con grandes musas para mi como Ariadne Artiles. ¡¡¡Qué ilusión!!! Os dejo abajo los vídeos por si os apetece verlos.
¡MIL BESOS!
VÍDEO 1: REPORTAJE ANNA DELLO RUSSO PARA H&M (MINUTO 7:35)
VÍDEO 2: FINALISTAS GLAMMY DE LA SEMANA (MINUTO 4:50)
LOOK FOTOS:
Chaqueta/Jacket: Zara (SS 12)
Pantalones/Pants: New Yorker (AW 12)
Saneakers: Steve Madden (SS 12)
Collar/Necklace: Accesorize (AW 12)
LOOK VÍDEO:
Top: Queens Wardrobe (AW 12)
Bolso/Bag: Zara (AW 12)
Botines/Booties: Stylisim (Old)