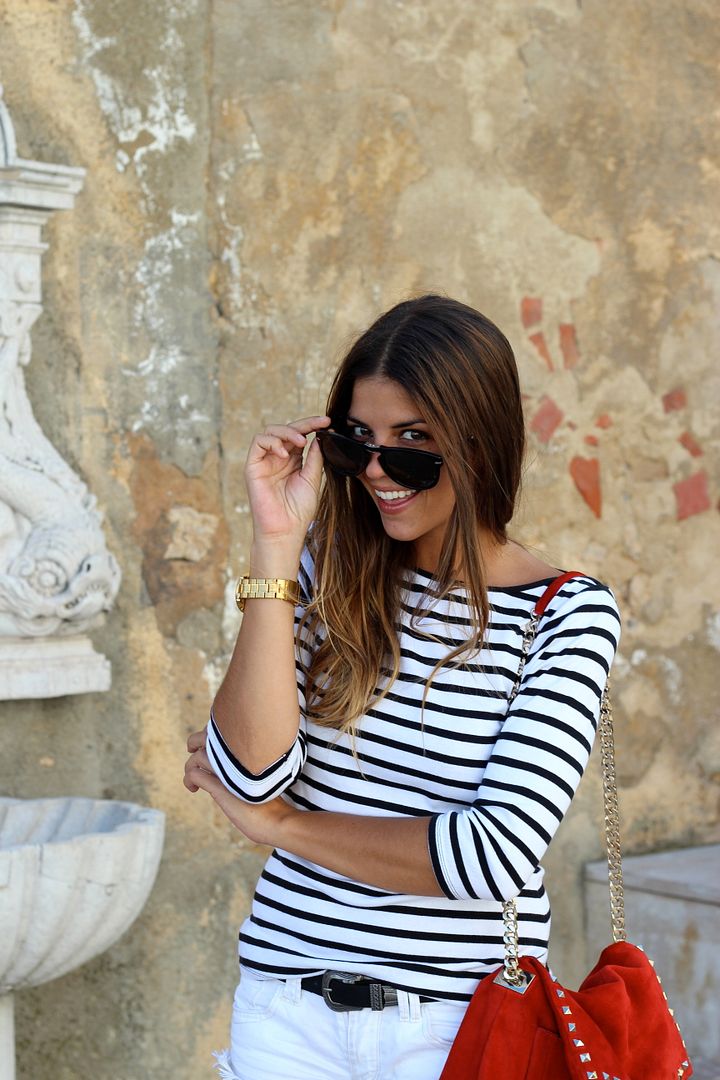 Here is one of my outfits during these little holidays in Cascais. The colors, the town and the sun are so beautiful. It has a special charm. That´s why I decided to wear my new sunglasses. A mythical model that Steve McQueen made famous in the 70´s. Love the retro style and folding frame. A comfy and thin sunnies that will give you a pretty cool touch. Are unique, flattering and hand-made!!! They have been in my wishlist for a long time because are a little expensive, but I found my Persol in Optifactory with a incredible price. Love that web, I´m sure lots of you already know it, you can find thousands of sunglasses with huges discounts and have it in your house in a really short time. I show you a pic made with my mobile when thay arrive, in a box with a bow and sweets!!
THOUSAND OF KISSES!
Este es uno de mis looks durante estas mini vacaciones en Cascais. Los colores, la ciudad y la luz allí tienen un encanto especial. Por eso era el momento de estrenar mis nuevas gafas de sol. Un modelo mítico de Persol que Steve McQueen hizo famoso en los años 70. Me encanta el estilo retro y la montura plegable, son increíbles. Un modelo cómodo y ligero que además es muy cool. Estas gafas son especiales por ser únicas, favorecedoras y ¡¡¡hechas a mano!!! Estoy feliz porque llevaban mucho tiempo en mi wishlist porque son un poco caras, pero al final las encontré en Optifactory a un precio de risa. Seguro que muchos ya conocéis esa web, me encanta porque tiene miles de gafas a precios siempre muy rebajados y las tienes en casa en nada de tiempo. Os enseño además una foto que hice cuando me llegaron a casa, en una cajita con un lazo y llena de caramelos. Lo único malo es que como son unisex vuestros chicos os las intentarán robar siempre, os lo digo por experiencia 😉
Sobre el vestido de ayer que he recibido montones de preguntas, está agotado. Por eso no puse el link directo, pero como ya sabéis tienen miles de modelos nuevos cada día y seguro que encontráis algo parecido. Si yo veo alguno os avisaré.
¡MIL BESOS!
Total look: Zara
Booties: Pilar Burgos (AW 12)
Gafas de sol/Sunnies: Persol Po 714 Optifactory
You might also like