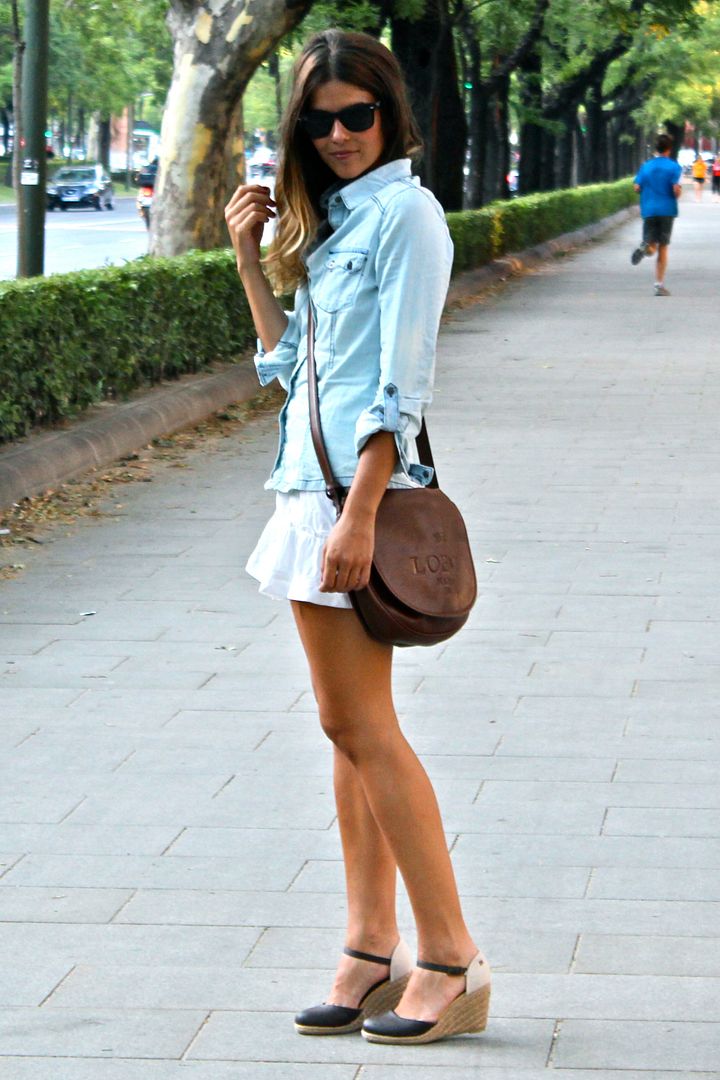 Camisa/Shirt: Blanco (New)
Falda/Skirt: Blanco (New)
Bolso/Bag: Loewe
Sandalias/Sandals: Mustang-Buylevard (SS 122)
I´m really obssesed with denim shirts, tees, shorts…love everything! A good way to wear it at summer is to pair your denim shirt with a lace style skirt and raffia sandals. Fresh and flattering, perfect to a hot day at the city. To finish the look and pair with my new sandals, a brown letaher bag is perfect. The best of the look is the materials and color mixes, don´t you thing so?
THOUSANDS OF KISSES!
Estoy realmente obsesionada con las camisas, camisetas, shorts…vaqueros, ¡me flipa todo! Tienen un millón de posibilidades, consiguiendo estilos muy diferentes y experimentando mezclas. Una buena manera de combinar una camisa vaquera en verano es con una faldita tipo lencera con detalles de encaje y unas alpargatas, perfecto para un día caluroso por la ciudad. ¿Hay algo mas cómodo y fresquito que unas alpalgatas? Estas me encantan por la cuña tan cómoda (tenía que pasarme el día entero de un lado para otro) y la combinación con piel marrón. Además añaden el detalle de la pulsera al tobillo, súper tendencia este verano. Para finalizar el look un bolso en piel marrón combinando con las sandalias es perfecto. Lo mejor del look es la mezcla de tejidos y colores, ¿no creéis?
Ahora buenas noticias, en Buylevard tienen una súper promoción hasta las 10h de mañana, TODOS los productos Mustang (entre ellos las sandalias que llevo) están al 50% (pinchad en la imagen de abajo y os lleva a la promo ;)), buena excusa para hacerse con algún zapatito de cara a las vacaciones…
Yo me voy el viernes ¡¡¡ya estoy deseando!!! Voy a hacer un viaje muy chulo y muero de ganas de contároslo 😉
¿Vosotros ya de vacaciones? ¿Qué planes tenéis?
¡MIL BESOS!
You might also like