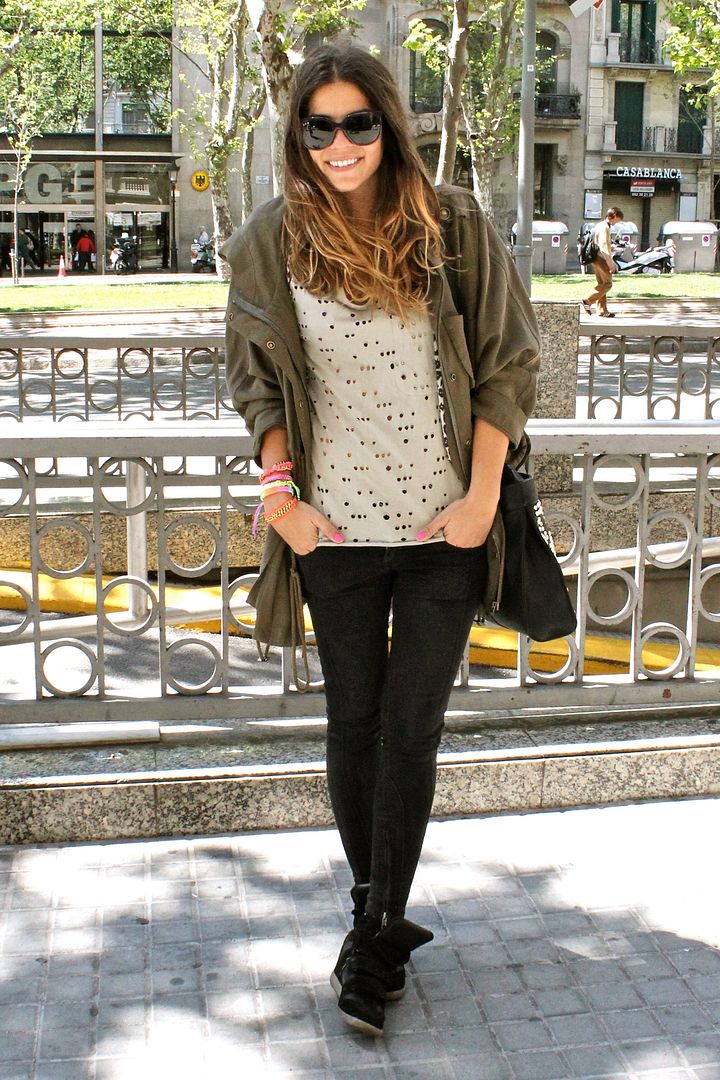 Camiseta/Tee:Queens Wardrobe (SS 12)
Pantalones/Pants: Bershka (Old)
Zapatillas/Sneakers: Steve Madden (SS 12)
Parka: Queens Wardrobe
Bolso/Bag: Coosy (SS 12)
Pulseras/Bracelets: Isha Kandisha (New)
Gafas de sol/Sunnies: Ray Ban- Óptica Mateos
(RECORDAD QUE  LAS GAFAS SE PUEDEN PEDIR MEDIANTE EMAIL AUNQUE NO TENGAN TIENDA ONLINE EN ÓPTICA MATEOS. OS HARÁN ADEMÁS UN DESCUENTO DEL 15% DICIENDO QUE SOIS LECTORAS DEL BLOG EN CUALQUIER PRODUCTO O MODELO. SI VIVÍS EN MADRID MEJOR PASAOS POR ALLÍ, QUE OS ATENDERÁN GENIAL Y OS HARÁN EL DESCUENTO TAMBIÉN.)
Love this kind of destroyed clothes! The tee in soft khaki green full of holes gives a stylish touch to the look. The outfit is super comfy, so I chose it to go shopping in the mnorning. My beloved new sneakers, the parka and studded bag complete the look. Notice the neon bracelets, aren´t they awesome? give the look color and some bright!
THOUSANDS OF KISSES!
¡Me chiflan este tipo de prendas destrozadas! La camiseta en kaki muy suave llena de agujeros añade un toque de estilo a un look muy simple y sport. Lo elegí para ir de compras por la mañana y quería ir muy cómoda. Mis adoradas zapatillas, mi inseparable parka y el bolso de tachuelas terminan el look. ¡Fijaos en las pulseritas flúor! ¿No son geniales? Añaden luz y color a todo el look. Son de Isha Kandisha y ya sabéis que podéis pedirlas por email al contacto de la web, aunque no tenga venta online.
¡MIL BESOS!
You might also like