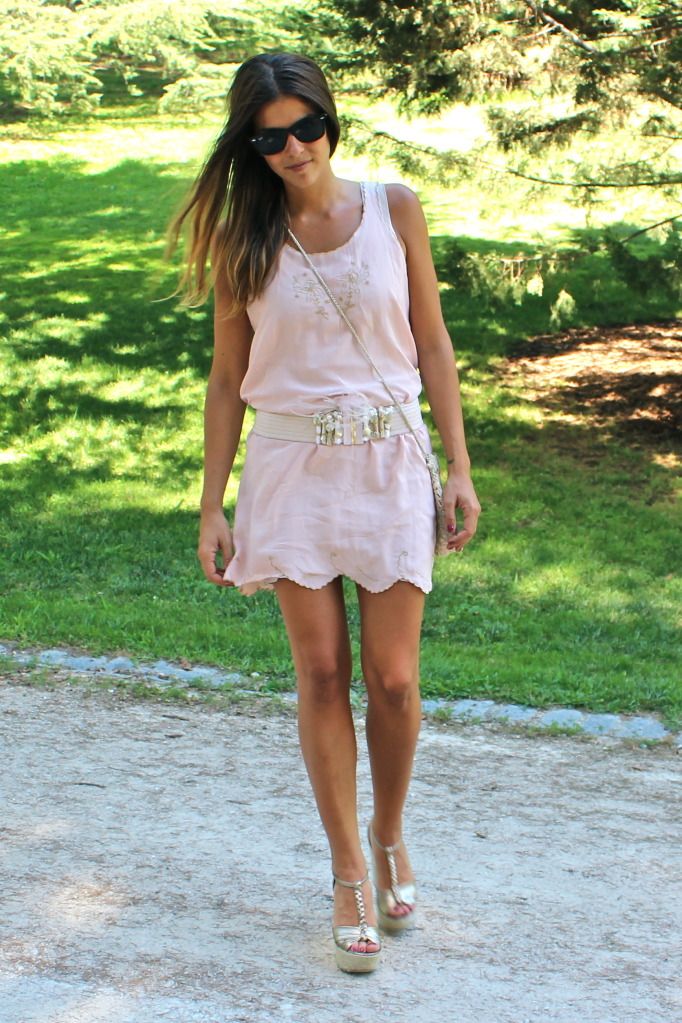 Total look: Atelier Concept (SS 12) (Podéis hacer vuestros pedidos en Atelier mediante el email y teléfono que aparecen en la web)
Sandalias/Sandals: Zilian (SS 12)
There is nothing more fresh for summer as a silk tunic. This one in super light pink with golden embroidery is beautiful and so flattering. Inside, I wore a cotton slip as lining to avoid transparencies. The accesories make the outfit special. The crochet hippie style bag and the amazing hand-made belt with feathers, mother-of-pearl stones…give to the tunic a romantic and different touch. My  inseparable golden raffia sandals finish the look.
HAVE A GREAT SUMMER SUNDAY!
No hay nada más fresquito para verano que una túnica de seda. Esta en rosa muy muy clarito y con bordados dorados es preciosa y súper favorecedora. Por debajo, llevé una combinación de algodón a modo de forro para evitar transparencias. Los accesorios hacen el look especial. El bolsito de crochet rollo hippie y el cinturón hecho a mano con plumas, piedras y nácar dan un toque romántico y diferente al outfit. Para terminar, mis inseparables sandalias doradas de rafia…
¡¡¡FELIZ DOMINGO DE VERANO!!!
(Qué diferentes a los de invierno, ¿verdad?)
You might also like