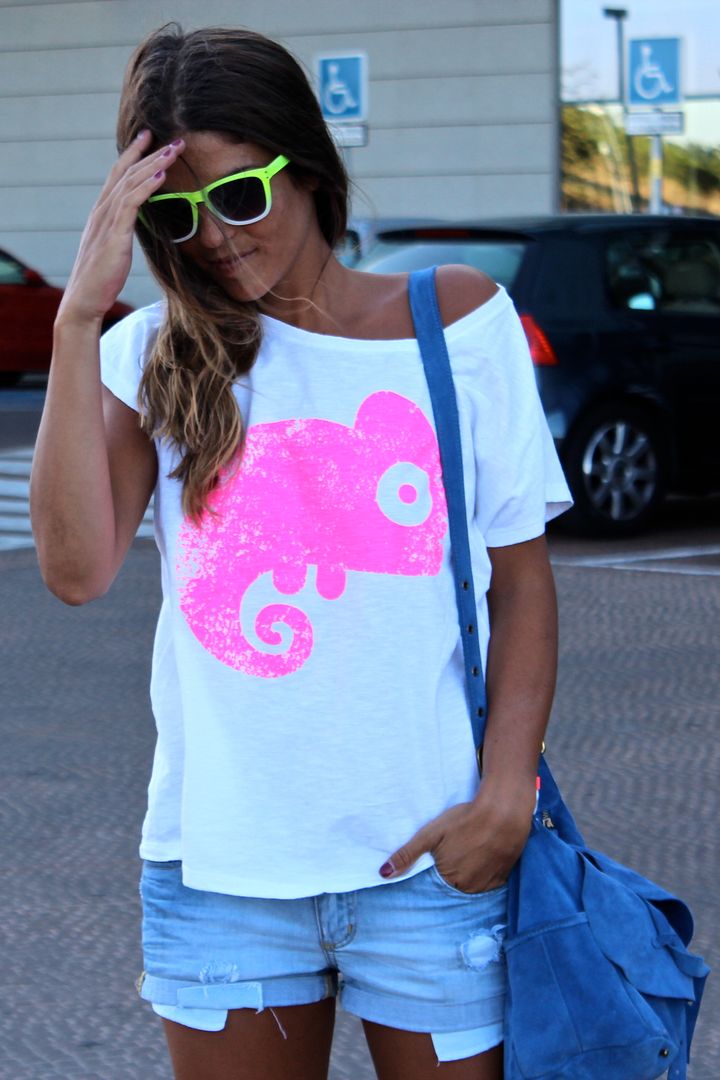 Camiseta/Tee: Okadaï (New)
Shorts: Zara (Old)
Bolso/Bag: Springfield (SS 12)
Bailarinas/Ballerinas: Pretty Ballerinas-Stylisim (SS 12)
This is a special post. I´m happy to present you a new brand called Okadaï wich at the time it creates trendy clothes is helping in solidarity proyects. Of each item selled, they destinate a 25% of the money to a ONG that works in scientific researchs against cancer. The funniest thing is that the friendly logo, the iguana, changes in every tee and depending of its color you are helping in a different type of cancer.
The sponsor is Pep Guardiola and other lots of famous faces of music, cinema, tv, sports…are going to cooperate with the brand.
They are cool and limited edition (only 100 of each model) and are perfect for summer walks, go shopping or to the beah. Combined with denim shorts are just perfect for casual summer looks!
Hope you like the beautiful idea,
THOUSANDS OF KISSES!!!
Este es un post muy especial. estoy feliz con presentaros una nueva marca que a la vez que crea moda y se une a las últimas tendencias ayuda en proyectos solidarios. Okadaï destina el 25% de sus ventas (wow!) a asociaciones que investigan contra el cáncer. Entre ellas la Asociación Española Contra el Cáncer. Son totalmente transparentes y lo más divertido de todo es que su gracioso logo, la iguana, cambia de color en función al tipo de cáncer al que esté ayudando. La verdad es que yo elegí esta en rosa flúor porque me encantó y es tendencia total, pero son todas súper chulas.
El padrino de la marca (sin ánimo de lucro) es Pep Guardiola y caras conocidas del deporte, cine, música se irán sumando a la iniciativa Okadaï. Si vosotros queréis ser parte de este bonito proyecto todas las prendas se pueden adquirir en su tienda online.
Son muy cool y además edición limitada, de cada modelo tan sólo se fabrican 100 ejemplares y en la etiqueta puedes ver hasta qué número es la tuya (la mía es la 3 de la serie) Perfectas para dar un paseíto, ir de compras (como en mi caso) o a la playa. Con unos shorts vaqueros harán el look casual perfecto. Así que daos prisa y no os quedéis sin la vuestra, que a la vez estaréis ayudando a muchas personas.
Espero que os guste esta bonita idea,
¡¡¡MIL BESOS!!!
You might also like