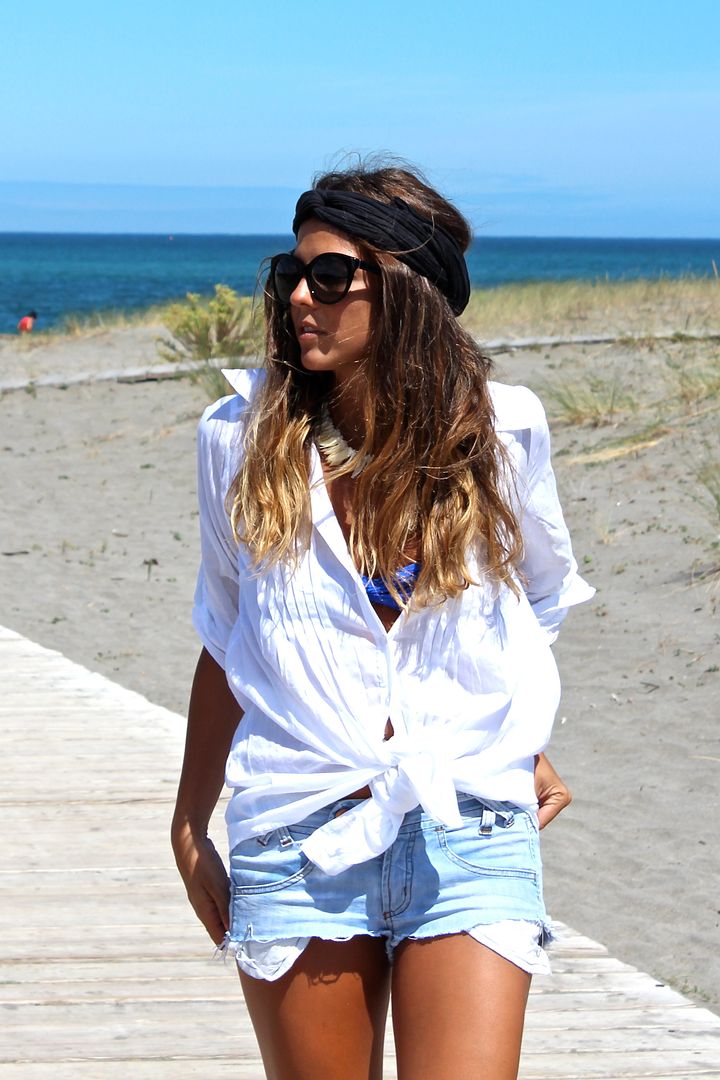 Bikini: Marinbe Designs (SS 12)
Camisa/Shirt: Stradivarius (Old)
Shorts: DIY
Collar y turbante/Necklace and turban: Vintage
Sandalias/Sandals: Blanco (New)
Gafas de sol/Sunnies: Prada-Óptica Mateos (SOIS MUCHAS LAS QUE ME COMENTÁIS Y MANDÁIS CORREOS PREGUNTANDO. EN ÓPTICA MATEOS HACEN ENVÍO DE CUALQUIER MODELO QUE QUERÁIS. SÓLO TENÉIS QUE PEDIRLAS POR FACEBOOK O EMAIL Y SON DE TOTAL CONFIANZA. NO OLVIDÉIS DECIR QUE SOIS LECTORAS DEL BLOG, ¡TENDRÉIS DESCUENTO! PINCHANDO EN EL LINK OS LLEVA DIRECTAS A SU PÁGINA)
The truth is that I´ve never been before in Galicia before, but now I do love it! The beaches, the landscapes, the people, the cities, the food…everything is amazing here! This time I went to the beach in Ortigueira. A beautiful and wild beach where we spent the day. After that, we went to enjoy the awesome sunset nearby the Hercules Tower in a wonderful park. Hope you like the pics 😉
About my beach look, it´s quite simple but with cool accesories. The turban, the sunnies, the necklace…a knotted shirt and ripped shorts and of course a flattering and chic bikini in deep blue with golden chains.
THOUSANDS OF KISSES!
La verdad es que nunca antes había estado en Galicia, pero ahora ¡me encanta! Las playas, la gente, las ciudades, la comida…todo es increíble. Esta vez fuimos a la playa a Ortigueira. Una playa salvaje y preciosa donde pasamos el día. después fuimos a disfrutar de una impresionante puesta de sol en Coruña, cerca de la Torre de Hércules en un parque precioso que hay. Espero que os gusten las fotos 😉
Sobre mi look playero, es muy simple pero adornado con los accesorios. El turbante, las fafas, el collar…una camisa anudada y shorts rotos además de otro de mis nuevos bikinis de Marinbe. Me alucina el color azul que tiene y las cadenitas doradas en la cadera.
Ya he publicado mi nuevo post comentando el capítulo de ayer en la web de FOX, podéis verlo AQUÍ
¡MIL BESOS!
You might also like