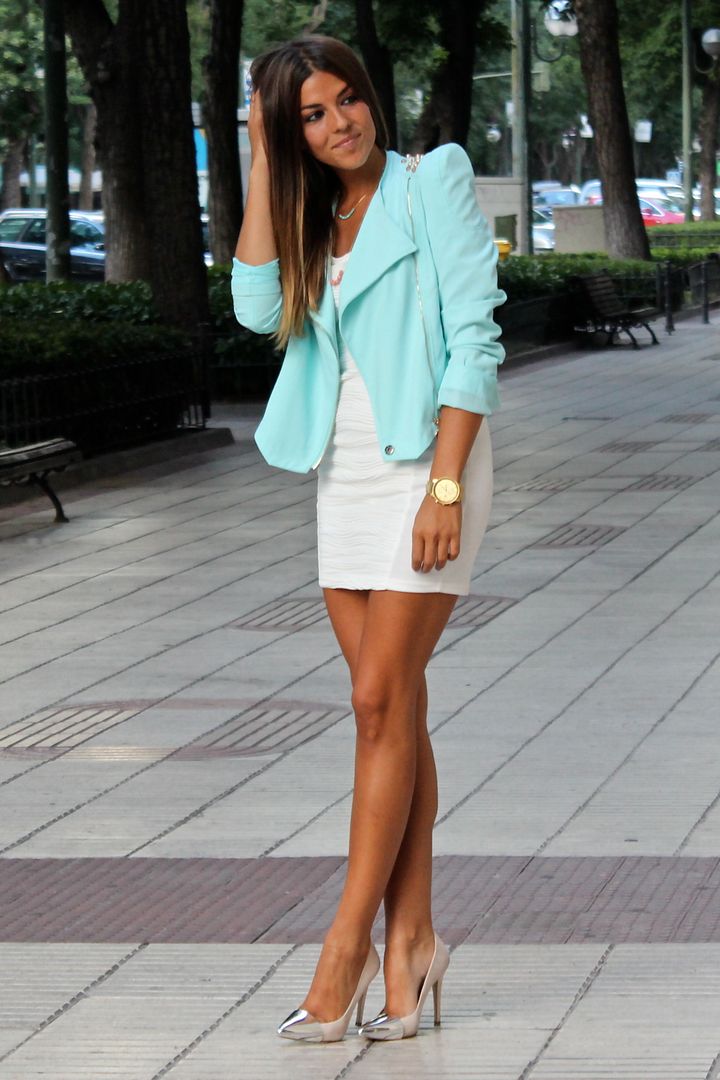 Vestido/Dress: Coosy (SS 12)
Chaqueta/Jacket: Fashion Pills (SS 12)
Zapatos/Shoes: Zara (New)
Reloj/Watch: Queens Wardrobe
Collares/Necklaces: mustt
It´s hard to come back from hollydays and even more to a city like Madrid, that it´s empty in august. So to make funnier these days I´ve been doing some shopping 🙂 The jacket is from Fashion Pills, a brand I´ve discovered few time ago (you have seen here another clothes) and I do love it. The summer version of the mythical perfect jacket, with golden studs on the shoulders and in a bright and beautiful light blue color. Awesome. The dress is from Cossy, you all know it´s one of my favourite brands! A flattering and gorgeous summer basic. The LBD gives way to the little white dress as the king of summer. The style and the color will make it your best friend this season. With lots of possible combinations I guess we are going to have a great time toguether 😉
Today I´m leaving Madrid again to spend some days at the fabulous cities and beaches of Galicia. I´m really happy! Hope you are having a wonderful summer too and thanks for stopping by!!!
THOUSANDS OF KISSES!
Es duro volver de vacaciones y más aún a una ciudad como Madrid, que está vacía en agosto. Así que para hacer más llevaderos estos días he hecho algunas compritas 🙂 La verdad es que con las rebajas da gusto, estoy encontrando cosas geniales. La chaqueta es de Fashion Pills, una marca que conocí hace poquito (ya os he enseñado más cositas aquí) y que me encanta. La versión veraniega de la mítica chaqueta perfecto, con tachuelas doradas en los hombros y en un color azul muy clarito y súper luminoso. Es impresionante. El vestido es de Coosy, ¡ya todos sabéis que es una de mis marcas favoritas! Un favorecedor y precioso básico de verano. El LBD deja paso en verano al little white dress como rey del verano. El corte y color de este (un blanco roto) harán de él tu mejor amigo. Con un millón de combinaciones posibles algo me da que él y yo vamos a pasar grandes momentos juntos 😉
Hoy por fin vuelvo a escaparme de Madrid para pasar unos días en las increíbles ciudades y playas de Galicia. ¡Estoy feliz! Espero que vosotros estéis disfrutudando de un verano maravilloso también. ¡Gracias por pasaros por aquí!
¡¡¡MIL BESOS!!!
You might also like