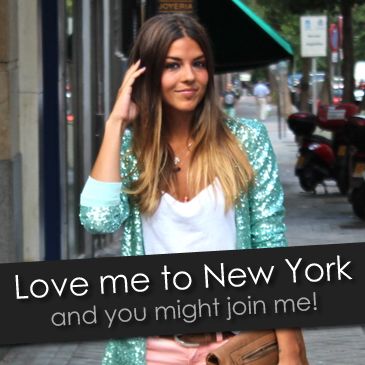 I do!!! That´s why I´m excited to let you all know HOW TO WIN A WONDERFUL TRIP TO NEY YORK FASHION WEEK with me. Fashiolista and Revolve Clothing are running out a contest to take you and me there with all expenses included to enjoy the september fashion week at the most amazing city in the world.
Participate is easy and quickly, you just have to enter HERE and click on the heart to vote me. You can log in via Facebook or Fashiolista and one of the voters will come with me to New York…
The contest end on 29th august, Crossing fingers!!!
¡¡¡Yo si!!!
Por eso estoy emocionada de contaros CÓMO GANAR UN VIAJE A LA SEMANA DE LA MODA DE NUEVA YORK conmigo. Fashiolista y Revolve Clothing han organizado un concurso y he tenido la suerte de ser una de las bloggers seleccionadas. Gracias a ello puedo ofreceos la posibilidad de que ganéis este viaje con todos los gastos pagados y disfrutar de la semana de la moda de la ciudad más increíble del mundo. ¡Un sueño hecho realidad!
Participar es fácil y rápido, solo tenéis que entrar AQUÍ y hacer click en el corazón (a la derecha de la foto) para votarme. Podéis registraros via Facebook o Fashiolista y entre las que me votéis una vendrá conmigo a Nueva York…
El concurso termina en 29 de agosto, ¡¡¡crucemos los dedos!!!