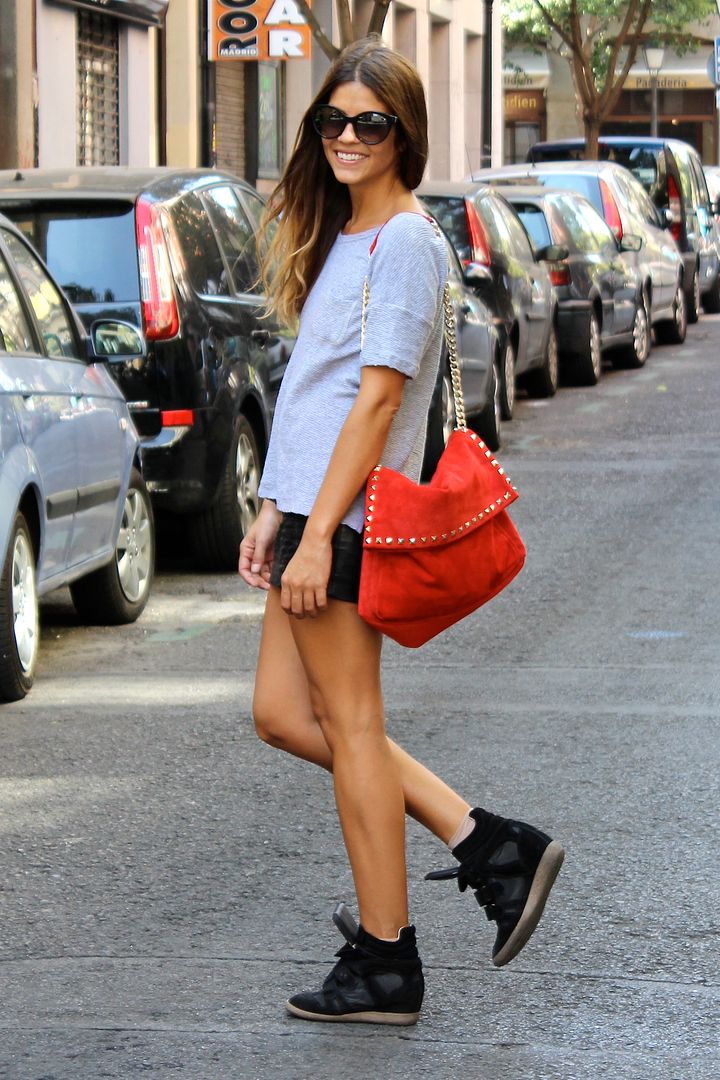 Top: Mango (SS 12)
Falda/Skirt: Old (Parecida aquí/Similar here)
Sneakers: Steve Madden (SS 12) (Parecidas aquí/Similar Here)
Bolso/Bag: Zara (New)
Gafas de sol/Sunnies: Prada-Óptica Mateos (SOIS MUCHAS LAS QUE ME COMENTÁIS Y MANDÁIS CORREOS PREGUNTANDO POR MIS GAFAS. EN ÓPTICA MATEOS HACEN ENVÍO DE CUALQUIER MODELO QUE QUERÁIS. SÓLO TENÉIS QUE PEDIRLAS POR FACEBOOK O EMAIL Y SON DE TOTAL CONFIANZA. NO OLVIDÉIS DECIR QUE SOIS LECTORAS DEL BLOG, ¡TENDRÉIS DESCUENTO! PINCHANDO EN EL LINK OS LLEVA DIRECTAS A SU PÁGINA)
I was waiting for the weather to be not so hot to take my sneakers out of my wardrobe. The coolest and comfiest looks to tramp the city  every day. The color combination of grey and black is one of my favourites, you all know, but the key is the color touch of the bag. Is just wonderful! In deep red suede and studded, hanging from a golden chain is one of my last and best purchases.
Have a wonderful sunday, I´m gonna go to the Retiro park to skate 😉
Have fun and thousands of kisses!
Estaba deseando que el tiempo nos diera una tregua con el calor para sacar mis sneakers del armario. Con ellas podemos crear los looks más cómodos y cool para patearnos la ciudad todos los días. La combinación de colores en gris y negro es una de mis favoritas pero la clave es el toque de color del bolso. ¡Es espectacular! En color rojo intenso, ante, tachuelas y enorme cadena para colgar es una de mis mejores y últimas adquisiciones.
Que tengáis un feliz domingo, yo me voy a estrenar mis nuevos patines por el parque del Retiro 😉
¡MIL BESOS!